Welcome to the PGO information point.
Do you have a question about personal health environments (PHEs)? Then you've come to the right place. This information point is for everyone who has questions about PGOs: citizens and healthcare professionals. Here you will find the answer to your question.
Or call one of our colleagues.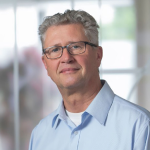 Hello, my name is Fred. My colleagues and I are standing every working day from 08:00 - 18:00 ready for you.
A personal health environment (PGO) is an app or website that allows you to collect more and more data about your health in one place. Such as your medical file at the GP or hospital.
This page was created on behalf of